The GSMA Future Networks Programme has launched an Operator Network Energy Benchmark (ONE Benchmark) initiative to support member operators against the projected increase in energy consumption as well as support the UN's 2030 goals for sustainable development.
According to the World Economic Forum mobile operators can spend up to fifty per cent of their operating expenses on energy bills, equating to tens of billions of dollars spent globally every year on energy consumption. With 5G on the horizon, there is already a debate raging about how energy efficient this technology will be. However, what is clear is that most operators will be required to maintain their 2G, 3G, 4G and 5G networks, meaning an overall increase in energy consumption.
ONE Benchmark allows operators to compare energy consumption within their networks and identify where they sit against an industry average through a fully anonymized report. It will also support operators looking for network optimisation by giving them access to our operator verified case studies and Innovation Profiles managed by Beta Labs. This has already identified approximately $450 million of savings in 2018 and had great success at MWC19, where two of its innovator companies (Telefonica and GenCell) won prestigious GLOMO awards in The Green Mobile Award category.
This benchmarking tool existed in a different guise previously and had 40 participating mobile network operators with over 200 networks across 145 countries. However, with renewed interest in sustainability (Telefonica committing to 100% renewable electricity by 2030 and Vodafone committing to 100% renewable electricity by 2025); we are relaunching it as a free service without any commercial attachment.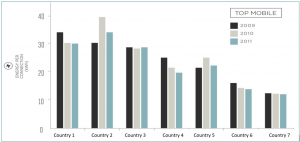 Image: GSMA commitments to a year-on-year comparison of energy consumption within networks
The tool will provide a year-on-year comparison giving operators detailed information on how to best save energy as well as use our Beta Lab ecosystem to identify practical solutions for network optimisation. Each participant will receive a two-part report including how they are performing individually as well as an anonymised benchmarked report against the industry average. Some of the data being collected includes grid electricity and diesel energy consumptions along with energy price and cover KPIs like cell sites and network sites.
If you are an operator interested in how the ONE Benchmark could benefit your organisation please get in touch here, or visit here for more information about GSMA Beta Labs.